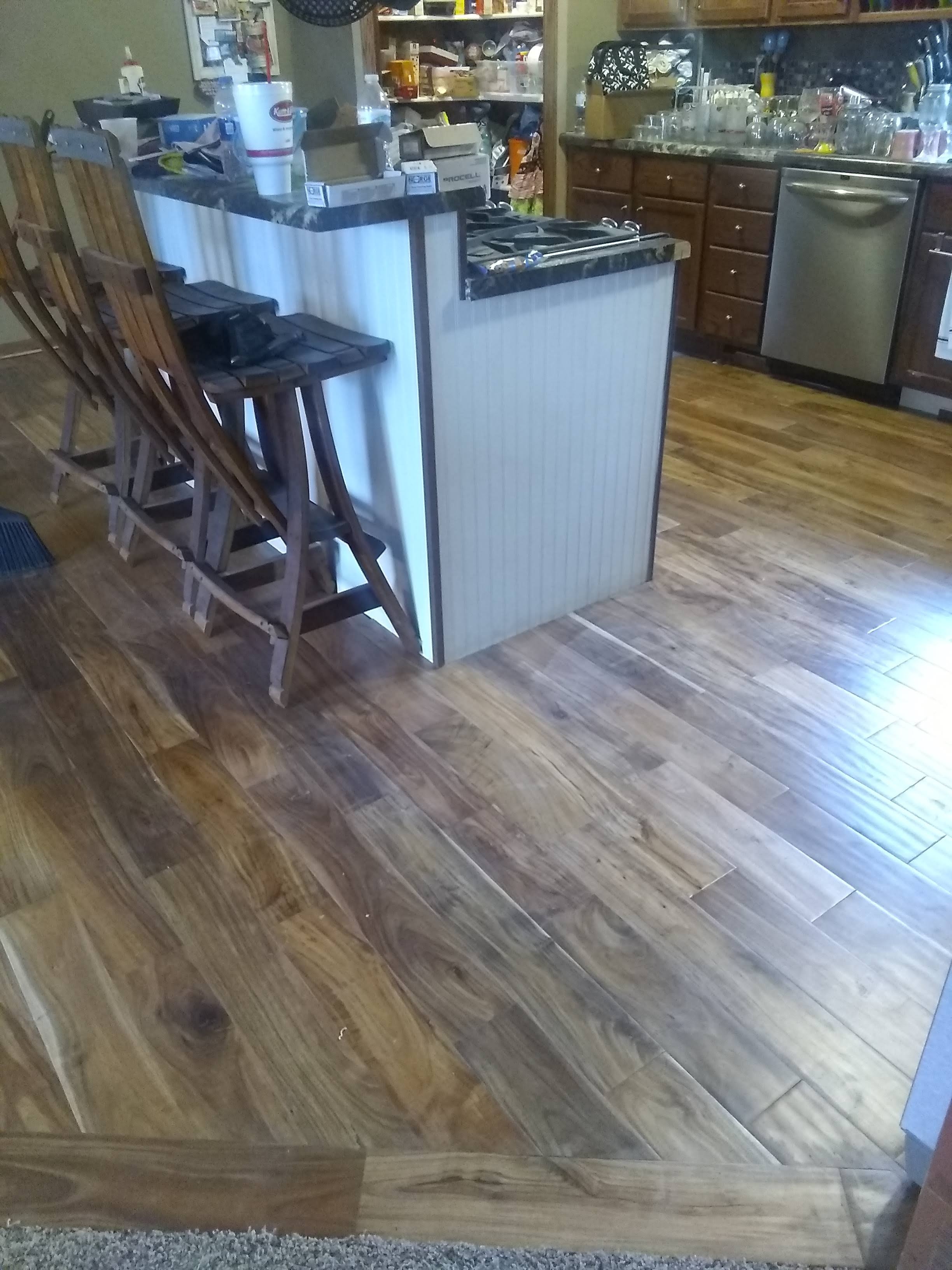 Wall to Wall Hardwoods
Lay the foundation for a beautiful space. Crafted to last a lifetime, your hardwood floors will bring style and value to your home for years to come. We have a variety of types to match your lifestyle and offer several different staining options to showcase the natural character of the wood. From sand to finish, your new floor will bring harmony to your home and match your decor perfectly. 
Hardwood floors can be maintained with minimum effort. It's simply a matter of proper care. 
Clean regularly to remove dirt and grit from between the floorboards. 

Don't let water lay on the wood for long periods.

Avoid overly wet mops as it can damage the finish.

Wipe up spills immediately. 
The place felt pads on the bottom of furniture.
Don't let kids wear cleats in the house.
Using small rugs and runners can help protect from scratches.
Follow our maintenance directions for your exact wood type and stain and your new floors will have a long-lasting performance.
If you are looking for a hardwood alternative, we also offer an array of irresistible laminate flooring options and luxury vinyl tiles and planks. These come in so many colors and styles that you'll have trouble deciding which one to pick. We have many beautiful options to choose, and our interior designer is more than happy to help you match your home's look and color scheme.
Laminate Flooring:
Upgrade your home's flooring with wall to wall laminate. Choose from our wide selection of high-quality flooring that's easy to keep clean and maintain. We have a variety of textures, colors, and styles to choose from. It's a great way to finish your renovation project and make all of your design dreams a reality on a practical budget. 
Luxury Vinyl Tile:
Our luxury vinyl tile creates stunning floors. With a simple installation, it's a great way to get creative with patterns. They are versatile and resistant to scratches, dents, and stains. It's the perfect option for your family's busy lifestyle. 
Luxury Vinyl Planks:
Have the look of wood, but the carefree durability of heavy-duty vinyl. It's great for high-traffic areas, easy to clean, and it's water resistant nature offers a ton of protection against drops and spills.